The Red Carpet is more exciting to me than the Oscars, themselves. That little metal man sees more best and worst in fashion than a trip to Wal Mart, and I think you all know what I mean, there.
This year was no exception, though I found that there were many more favs than flops. There were a lot of beautiful people in beautiful clothes last night! I'll jump right in. Here are my Favs and Flops of this year's Academy Awards.
Favs:
I don't know about you but I noticed a big trend with neutrals this year. There were so many beige and nude numbers, that I felt like any color really popped. That being said, I have some bold as well as toned down favs.
Fifth Place:
Kate Hudson looks amazing in this off white satin gown. It's perfect against her fair skin, and doesn't wash her out at all.
Fourth Place:
The Smiths look lovely, as always. Jada pulls off the peach color beautifully. I think the train adds so much to the gown and her simple hair and makeup are perfect. She's glam but not overdone.
Third Place: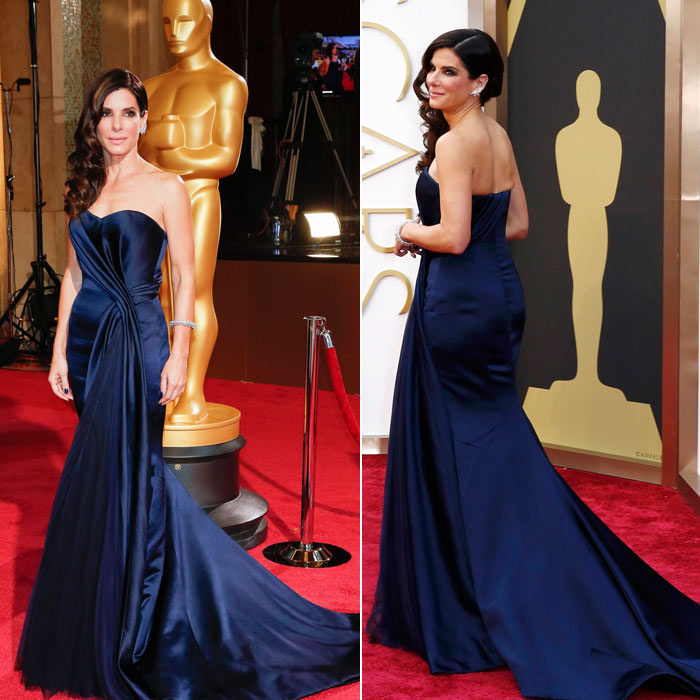 Sandra is a sight in navy blue! The gown is classic but interesting. Her hair is lovely.
Second Place:
There has been so much talk about this dress. Lupita Nyong looks phenomenal in this gown. In some light the gown even looked white, which was also so flattering. She looked like a princess.
Wearing: Prada
First Place:
Olivia Wilde was my favorite of the night. She looked stunning in this black and white gown and the back was so beautiful. I loved her clutch and jewelry and her makeup was SPOT ON. So simple with a winged eye and neutral lips.

Honorable Mentions:
Pink looked lovely in her red ball gown.
Wearing: Designer Unknown (SOMEONE TELL ME!)
Giuliana Rancic, lovely as ever.
Wearing: Paolo Sebastian
Anna Kendrick wearing J. Mendel. Some have said she should be in our flops, but I think she looks great and I love the gown, especially on her.
Flops:
I felt like the flops this year weren't necessarily unsightly dresses, but poorly worn, poor color choice or, okay, some were just unsightly...Here are my top 5 LEAST favorite of the night:
5th Least Favorite:
Elsa Pataky wore this green lace dress and though the coloring is lovely and her accessories and makeup are perfect, I just didn't love the silhouette it gave her pregnant belly.
Wearing: Unknown (Anyone know?)
Fourth Least Favorite:
Portia Derossi looks washed out in this color, I think. And I don't love the cutouts. It looks like a really long swimming suit cover up, to me... I do think her makeup is pretty though.
Wearing: Naeem Khan
Third Least Favorite:
Sally Hawkins is wearing a beautifully crafted gown but it does nothing to flatter her, looks boxy, and I feel like her hair and makeup don't help the situation.
Wearing: Valentino
Second Least Favorite:
Oh, Gaga. At least she's not wearing meat. I'm not a fan of the pattern on the gown or her makeup. Just...not really working for me. She has a killer body, though.
Wearing: Versace
#1 Worst of the Night:
If Liza Minnelli had allowed her top to trail down to the floor as a gown, I think it may have worked. But as a pants suit with masculine, boxy shoes, it's just not classic or feminine. Her jewels are lovely, though.
Wearing: Designer Unknown